Working with Jesse, my long time contractor friend, on this nice remodel project in the quail gardens area of Encinitas.
Jesse's clients were looking to remove all the old outdated tile flooring and ugly old carpet and replace it with a newer style engineered hardwood flooring throughout the home.
This Encinitas home has been in various stages of remodeling for several months and just our luck it comes up ready for flooring just as a nasty virus takes over our world.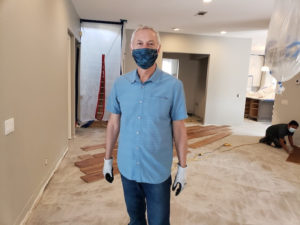 Fortunately we are able to continue working on the home since there are no families allowed in while we are working and our guys are using the latest recommended procedures to stay safe on the job.
Note the exact detail on the steps where we had stair nosing custom matched to the existing side trim profile. We meticulously thought out and shimmed the step so the new treads would flush out perfectly to the painted side trim. Our guys are so good and so great to work with. We even had our customer tell us we care more about the stairs than he does.
Hardwood Flooring in Encinitas (After Photos)
Stay tuned for more photos to come as they complete the kitchen remodel!