San Diego Vinyl Plank Flooring
These days, hardwood flooring seems to get all the attention. While flooring looks fantastic and can add a lot of value to the home, many homeowners are finding that they prefer the unique benefits that vinyl plank flooring can provide.
As a result, vinyl flooring represents a popular and fast-growing segment of the flooring marketplace. Some experts have even said that vinyl flooring represents the fastest-growing section of the flooring market.
Hardwood flooring may be more realistic, but vinyl plank floors have come a long way and still have a place in many homes—and could have a place in yours. At San Diego Flooring Pros, we would be honored to help you explore vinyl plank flooring as a potential option for your new home or forthcoming renovation project.
Why Go Vinyl?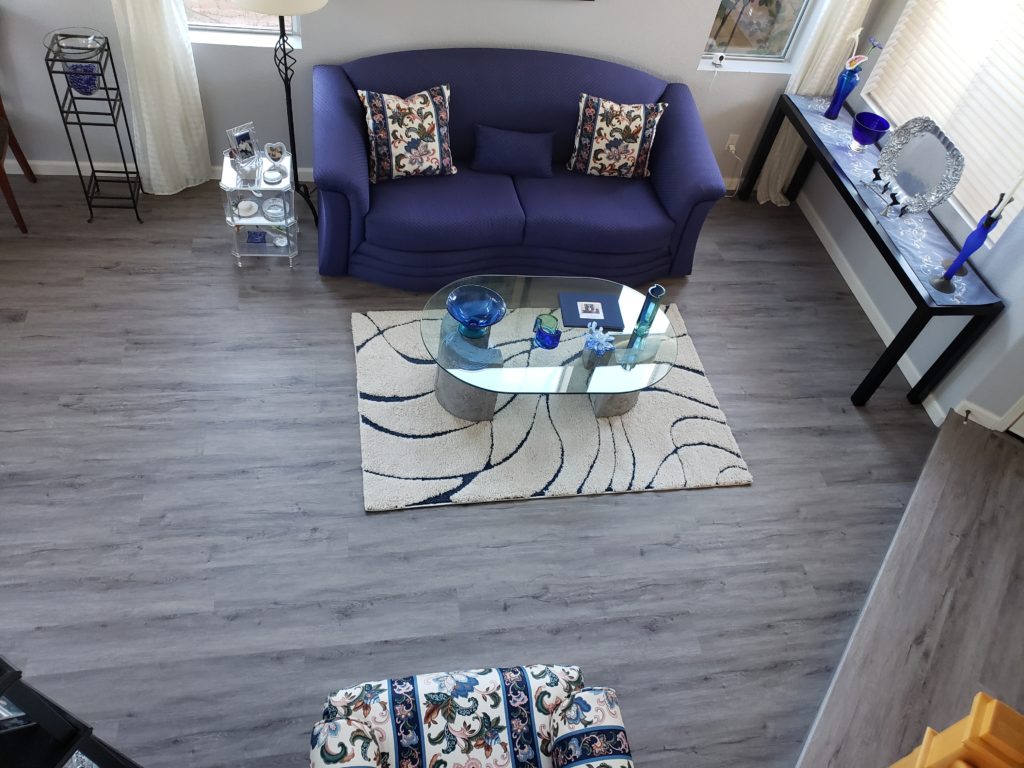 Why is vinyl flooring in San Diego popular again? 

Why is this type of flooring having a resurgence?
The simple explanation is that the newer waterproof vinyl plank flooring offers a long list of favorable properties that make it a great option for many homeowners, landlords and builders. 
Here are just a few of the reasons why vinyl floors have become so beloved:
Durability: Vinyl floors are durable in a way that many other types of flooring aren't. They are waterproof similar tile floors but not as cold. They also don't stain in the way that carpet does. Since they are a floating floor, they aren't as susceptible to cracking as tile is. That doesn't mean vinyl flooring is invulnerable, of course: it's not a good option for outdoor or indoor/outdoor spaces, for instance, because it can fade in direct sunlight or suffer damage due to high temperatures.

For the most part, though, vinyl floors offer excellent longevity and reliability, much like a hardwood floor at a fraction of the cost.

   

Limited maintenance: The durability of vinyl flooring makes it one of the lower maintenance varieties of flooring you can put in a home. Spills are easy to clean up, meaning that you don't have to worry about your dog bowl or that spilled glass of wine at your party because it won't stain if you don't get around to cleaning it up right away.

Design variation: Vinyl plank flooring is an artificial type of flooring that can be engineered to look very natural. It can mimic the look of tile, hardwood, granite, and other popular materials or surfaces while still retaining the advantages of waterproof vinyl flooring. Most are actual photos of real flooring materials, making it easy to match the design, architecture, theme, or color palette of the rest of your space. The versatility is a huge perk for many customers, designers, and architects alike.

     

Affordability: Along with all its other perks, vinyl is more affordable than most other types of flooring. The immense value offered by this type of flooring is likely the biggest explanation for why it has established such a high level of popularity in recent years.
Waterproof Vinyl Plank Flooring in San Diego
The only real challenge with vinyl flooring is choosing from the massive number of design options!
Luckily, our team at San Diego Flooring Pros is here to help you select the perfect style(s) to suit your preferences and design concepts. We have access to a vast number of vinyl flooring products, many of which you can see up close and in large samples in the comfort of your home. 
Whether you are looking for a vinyl flooring product that looks remarkably like a real hardwood floor or one that resembles tile, natural stone, or even finished concrete, we're happy to give you a tour of the options and help you pick out the perfect look for your project.
We can also assist with the installation of vinyl plank flooring in San Diego. While vinyl flooring is simpler to lay down than, say, hardwood, or a new tile floor, it's still essential to make the proper preparations. Vinyl flooring should be installed on a completely flat surface, as any bumps or minor imperfections can affect the long-term durability. 
To learn more about waterproof vinyl plank flooring, schedule an appointment to visit our unique showroom, or give us a call to schedule your in-home consultation, and we will bring the design samples to you. 
Every type of manufacturer in the flooring business is trying to get in on the action so there are literally 100's of styles to choose from and many different types of core structures and backings to consider for your application. Here are some quick links to our best sellers.