Another Carmel Valley neighbor looking for vinyl plank flooring to upgrade their older style 5" hardwood flooring. Rick and Nancy were shopping at a few different flooring stores and searched for several months trying to make sense of all of the options available but couldn't make a final decision on any of the products that they looked at.
They reached out to their neighbors and found a recommendation to speak with us so I got to work looking for the right product for their project.
They were looking to find a complementary color to blend with the existing wood trim on the stairs and also the slate flooring throughout the kitchen and family room.
We were able to narrow it down to a couple of styles and they particularly liked the wide plank longer boards that the Gemcore Onyx collection provides. Because it was such a tough task to make that final color decision I recommended that they purchase a carton of Onyx lawson to preview before ordering the whole floor. This gave them the comfort and confidence to pursue the entire project.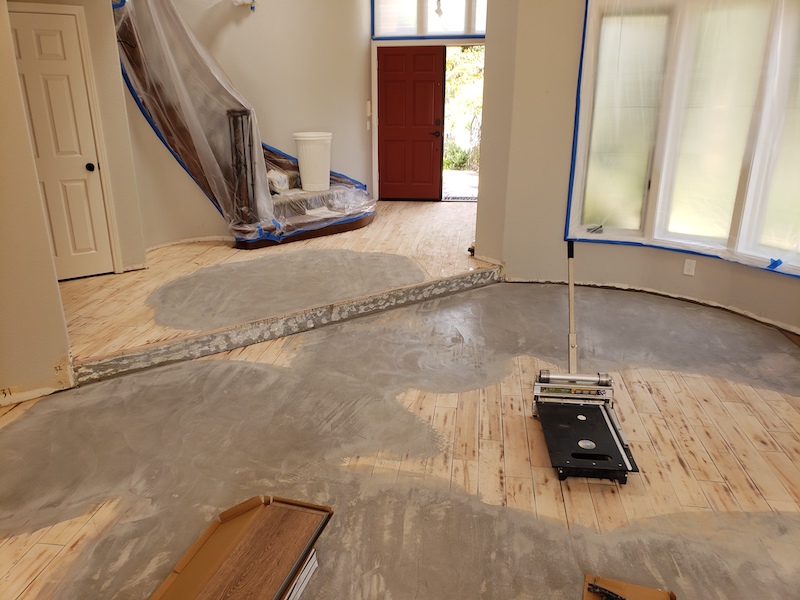 We completed the entry, living and dining rooms in this amazing 9" wide stone core flooring and they absolutely love it. They are so excited with it that they have already reserved dates to upgrade the entire upstairs of the home later this summer.
The Onyx collection from Gemcore offers the beautiful look and feel of 9″ wide plank hardwood flooring on a stone core body that can survive the most challenging interior environments. Onyx features an Embossed In Register (EIR) texture, for an ultra-realistic wood experience that is further enhanced by a pronounced, painted bevel.
This flooring also has a commercially rated wear layer, a high-density XPE pre-attached pad and provides the advantages of superior stability, dent & heat resistance while adding 100% waterproof performance.
Nancy's Testimonials Says it All
We had an absolutely excellent experience with San Diego Flooring Pros! Dave (owner) was extremely knowledgeable and patient in assisting us with picking out a floor. He was prompt, professional, and his quote was competitive. The guys that laid the LVP's, Marcus and Michael did a stellar job. They worked diligently, finished on time, were personable, and were very clean. The floors look amazing!! We will now move onto part two and be doing our upstairs.