My customer, John, had existing wood floors on his stairs and upper floor. He wanted to continue it throughout the first level. He could not find the previous contractor, so he started searching for someone who could complete the downstairs.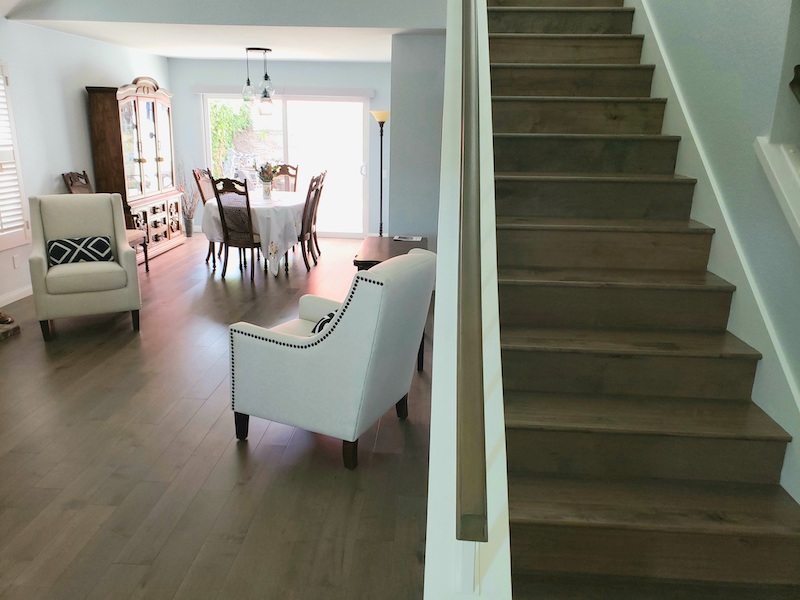 Several of his neighbors referred him to San Diego Flooring Pros.
Like many other homes in the area, they decided to open up some of the walls, replace their kitchen cabinets, change the paint color and replace the old floors with all new hardwood. His hope was to update the home to the current style, create more usable space for their active lifestyle and give the home a more open concept feel.
They chose the Novella Hardwood Collection because it features a slice-cut which means you get the look of a solid wood floor that they really love. The actual boards have been lightly sculpted by hand to give them an authentic European look. The novella maple frost gives every room distinctive coloring.
This versatile collection was designed to fit any design scheme and compliment any lifestyle; the planks will contain natural mineral deposits/streaking, and both closed and filled knots. Wood is a natural product that features distinct color and graining. Each board is unique in its characteristics and will vary from piece to piece.
These planks made from Maple are treated with the TrueMark® Glaze Tek finish, providing a low-sheen luster and easy maintenance that they will enjoy for many years.