One of the closet companies that we do a lot of work with called us to see if we could go out and fix a small cut in a laminate floor. They mentioned that this was one of their newer technicians that had accidentally cut through a cabinet and into her flooring.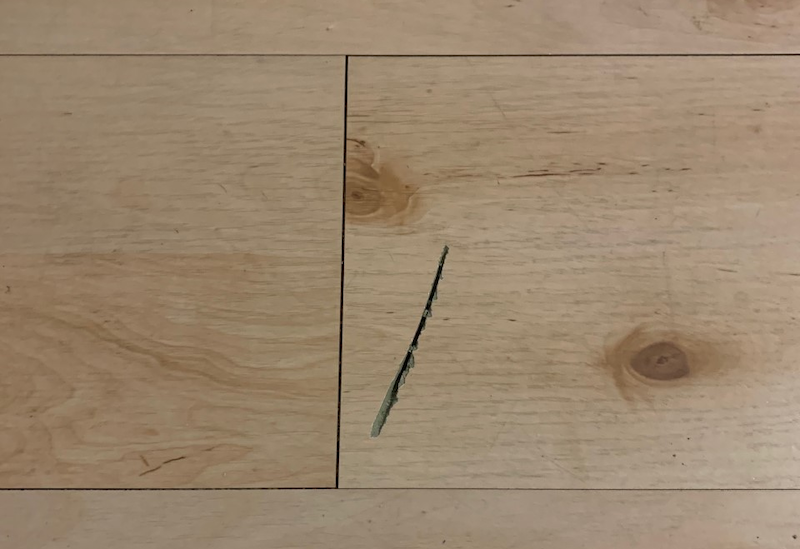 Unfortunately, he was only steps away from stepping outside to make his cut but instead thought he could just make a quick cut…right in the entry of the home. He accidentally cut through and into the floor. A spot repair would not be able to be covered or hidden and was visible right as you walked in the door so that was not an option.
After doing some research to try to find the product it was obvious that it was not going to be available for a repair and the client did not care for the older style laminate so we started looking for replacement products.
Fortunately for her this is a very reputable closet company who referred us to help her out and they were able to compensate her for the area involved to replace the flooring in the entry. She decided to continue on and replace all the flooring in her university city home with a newer stone core vinyl plank flooring.
As you can see the color of her new vinyl plank flooring in her kitchen is dramatically better with all the upgrades that she had been doing over the years. All of the recent paint colors now match the new vinyl plank flooring in her bedrooms too.
Testimonial from Liz, UTC Resident
I had a great experience with San Diego Flooring Pros. They replaced old laminate flooring with new, modern vinyl planks. Daniel and his team did an amazing job with the the installation. They worked efficiently, professionally and kept everything tidy. I would highly recommend San Diego Flooring Pros and Dave Bone.